Mark 9:30-37
Selective Hearing
by Rev. Paul Scalia
Reprinted by permission of "The Arlington Catholic Herald"
Home Page
To Sunday Gospel Reflections Index
Mark wrote to explain Christ
to the new Gentile converts.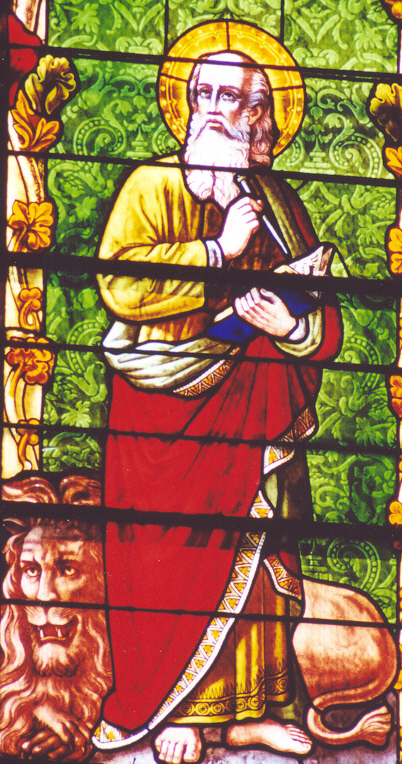 Jesus and his disciples left from there and began to journey through Galilee, but he did not wish anyone to know about it. He was teaching his disciples and telling them, "The Son of Man is to be handed over to men and they will kill him, and three days after his death the Son of Man will rise." But they did not understand the saying, and they were afraid to question him.
They came to Capernaum and, once inside the house, he began to ask them, "What were you arguing about on the way?" But they remained silent. They had been discussing among themselves on the way who was the greatest. Then he sat down, called the twelve, and said to them, "If anyone wishes to be first, he shall be the last of all and the servant of all." Taking a child, he placed it in their midst, and putting his arms around it, he said to them, "Whoever receives one child such as this in my name, receives me; and whoever receives me, receives not me but the One who sent me."
On many occasions the disciples of Jesus begged Him to teach them. They asked Him to explain the parables (cf. Mk 4:10), to teach them how to pray (cf. Lk 11:1), even to foretell the end of the world (cf. Lk 21:7). Yet when Jesus told them of His coming death and resurrection, "They did not understand the saying, and they were afraid to question him" (Mk 9:32). Unlike those other occasions when they were anxious for more information and pleaded for more instruction, in this instance they remain curiously incurious.
Scripture says only that they were "afraid to question Him." But why exactly were they afraid? Perhaps they remembered the rebuke given to Peter on a similar occasion and feared receiving the same (cf. Mk 8:33). Perhaps this was a reverential fear that overwhelmed them and kept them from asking anything more (cf. Mk 10:32). But another explanation is possible.
Perhaps they simply did not want to know more. Certainly they sensed the gravity and importance of what He was saying. They must have intuited that this particular teaching would require everything of them, changing their entire lives. In short, there seems to be a little willed ignorance in this situation. In the next verse we hear that they "had been discussing among themselves on the way who was the greatest" (Mk 9:34). They seem so caught up in the worldly view of discipleship that they not only failed to understand Our Lord's passion . . . they also did not want to. All that talk about being handed over and killed got in the way of their discussion about greatness. They were afraid to ask because the answer would require something of them.
Which all reveals that the disciples were not much different from us. Or, rather, how similar we are to them. Yes, we want God to explain things to us. We beg and plead that He help us understand, that He make His will known. Yet there comes a point when we do not want to know. We are afraid to question Him . . . because we might not like the answer.
In short, we have an extraordinary capacity for selective hearing with the Lord. We receive clearly what we want to hear . . and tune out what we sense will bring inconvenience, challenges, discomfort or suffering. This explains why so many people keep the faith at arm's length: They intuit that if it gets any closer they will have to change . . . to repent . . . to reform. Others make a deliberate decision simply to tune out certain teachings (usually about sexuality) that will require something of them. This explains also why so many people do not pray – that conversation with God might reveal some answers that we do not like. In the end, selective hearing of the Gospel leads to a selective reception of Jesus. If we are selective, we receive not Him but only ideas, thoughts and sentiments about Him. And those do not save.
The scene ends with Jesus comparing Himself to a child: "Whoever receives one child such as this in my name, receives me" (Mk 9:37). The simple, open, generous reception that one gives to a child – that is what we ought to give to Jesus. Not picking and choosing what aspect about Him we want, but receiving Him in all His simplicity and innocence.