Matthew 11:2-11
Indispensable Christians by Rev. Jerry Pokorsky
Reprinted by permission of "The Arlington Catholic Herald"
Home Page
To Sunday Gospel Reflections Index
Matthew wrote to show that Christ was the
Messiah and fulfilled the Jewish prophecies.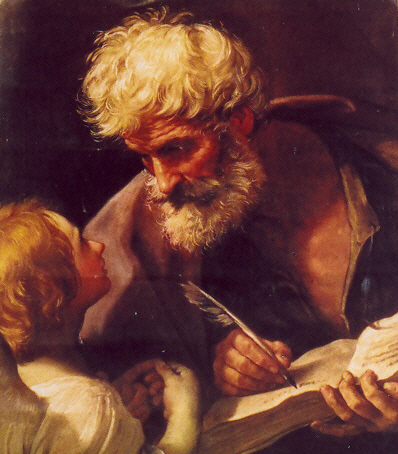 When John the Baptist heard in prison of the works of the Christ, he sent his disciples to Jesus with this question, "Are you the one who is to come, or should we look for another?" Jesus said to them in reply, "Go and tell John what you hear and see: the blind regain their sight, the lame walk, lepers are cleansed, the deaf hear, the dead are raised, and the poor have the good news proclaimed to them. And blessed is the one who takes no offense at me."
As they were going off, Jesus began to speak to the crowds about John, "What did you go out to the desert to see? A reed swayed by the wind? Then what did you go out to see? Someone dressed in fine clothing? Those who wear fine clothing are in royal palaces. Then why did you go out? To see a prophet? Yes, I tell you, and more than a prophet. This is the one about whom it is written: Behold, I am sending my messenger ahead of you; he will prepare your way before you.
Amen, I say to you, among those born of women there has been none greater than John the Baptist; yet the least in the kingdom of heaven is greater than he."
"The graveyards are filled with 'indispensable' Boeing engineers." With this response to his superiors, an accomplished engineer retired at age 65 from the Seattle-based company. They had protested he was "indispensable" to his assigned project. The engineer knew better. It was his time for retirement and he aimed to spend his twilight years more with his wife and family than with the slide rule. There is virtue in recognizing that businesses (and governments and churches) usually do not collapse when an "indispensable" employee rides off into the sunset.
In this week's Gospel, Christ reveals that John the Baptist is "more than a prophet." John is the "one about whom it is written: Behold, I am sending a messenger ahead of you; he will prepare your way before you." Christ continues with extraordinary praise, "Amen, I say to you, among those born of women there has been none greater than John the Baptist." John indeed was a formidable figure. As a great man, was he indispensable to the mission of Christ?
John's powerful proclamation of repentance to prepare the way of the Lord was reflected in his personal austerity. Living on locusts and honey, he wore the clothing of the prophets and simple hermits: a single garment, serving as both a cloak and a coat. But the mission of John did not center on his rough personality or eccentric ways. The mission of John the Baptist was to proclaim from the wilderness the coming of the Messiah.
The Jews has a great enthusiasm in their expectation of a Messiah. Recognizing John as a prophet, they asked him, "Who are you?" Could he be the Messiah? John knew his place. His role was sacrificial and he identified himself with the words "I am not…;" I am not Elijah; I am not the Messiah. Finally, quoting Isaiah, he describes himself merely as a "voice crying out in the wilderness." As the Gospel unfolds, this "greatest man born of women," in human terms, had the potential to be the most prominent of Christ's apostles. But speaking the truth, as true prophets always do, would be John's undoing.
The story is familiar. Herodias, unlawful wife of Herod, seeks revenge on John for his indictment of their immorality. She chooses the occasion of a Roman-style feast to conspire with her dancer-daughter Salome to charm the debauched Herod into gifting them with John's head on a platter. Another biblical prophet pays with his life, and a not-so-heroic Peter ("Depart from me for I am a sinful man") is eventually selected as first among the Twelve Apostles. In our pragmatism we may be inclined to observe that John forced Christ to settle for a lesser candidate because of a quixotic attempt at regal correction.
But the events of the Gospel remind us God's ways are not the ways of man. The message of John's martyrdom in the face of so much "potential," is clear at least in this: The ministry of Christ is not dependent upon the talents of this or that great personage. Graveyards are filled with great men who, in human terms, failed to achieve their potential. Must we not therefore conclude there is only one indispensable great man, Jesus Christ?
After identifying John as the greatest man born of woman, Christ mysteriously adds, "Yet the least in the kingdom of heaven is greater than he." Christ is the Author of greatness and in proclaiming the kingdom of God He confers divine greatness upon us. We who have been baptized, we who have received the sacraments have been born into the kingdom of heaven with an indispensable role to play. The divine life bestowed upon us gives us a greatness that cannot be denied and should not be suppressed.
Advent is a season of awakening. Christ came to redeem us and sanctify us. Despite our failures, we are loved. Despite our weaknesses, we have been sanctified.
We must wake from our lethargy to pray to discover our greatness and act out our indispensable part in the kingdom according to the will of God.
Please consider a tax deductible gift to support this web site.