Matthew 2:13-15, 19-23
A Family to Emulate by Rev. Jack Peterson
Reprinted by permission of "The Arlington Catholic Herald"
Home Page
To Sunday Gospel Reflections Index
Matthew wrote to show that Christ was the
Messiah and fulfilled the Jewish prophecies.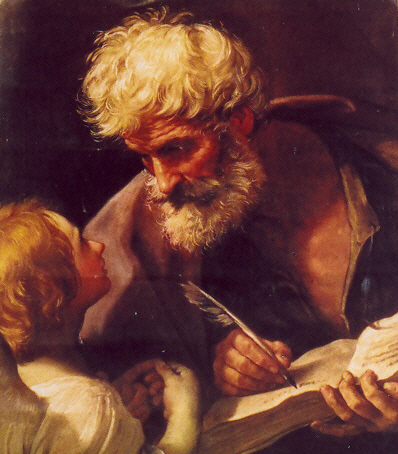 When the magi had departed, behold, the angel of the Lord appeared to Joseph in a dream and said, "Rise, take the child and his mother, flee to Egypt, and stay there until I tell you. Herod is going to search for the child to destroy him." Joseph rose and took the child and his mother by night and departed for Egypt. He stayed there until the death of Herod, that what the Lord had said through the prophet might be fulfilled, Out of Egypt I called my son.
When Herod had died, behold, the angel of the Lord appeared in a dream to Joseph in Egypt and said, "Rise, take the child and his mother and go to the land of Israel, for those who sought the child's life are dead." He rose, took the child and his mother, and went to the land of Israel. But when he heard that Archelaus was ruling over Judea in place of his father Herod, he was afraid to go back there. And because he had been warned in a dream, he departed for the region of Galilee. He went and dwelt in a town called Nazareth, so that what had been spoken through the prophets might be fulfilled, He shall be called a Nazorean.
It is wonderfully fitting, as we bask in the light of Christmas morning, to ponder and rejoice in the mystery of the Holy Family. The truth that God chose to take flesh and dwell among us is great news that reverberates across the world and brings the light and warmth of God's love to every nook and cranny of His creation. The fact that Jesus, God-with-us, was born into a marriage between Mary and Joseph and spent 30 of his 33 years on this earth in their home speaks loudly about how highly God regards family life.
Family life is never easy. That fact was no different for Joseph and Mary. They had to work through, with a little divine intervention, the unusual circumstances of Jesus' conception. They had to give birth to Him away from home, in the town of Bethlehem. Soon after Jesus' birth, they had to flee to Egypt to avoid a disturbed king who desperately desired His precious life extinguished. All throughout their family life, the Holy Family would battle with understanding the mystery that enshrouded Jesus' life and puzzled them. "Did you not know that I needed to be about my Father's business?"
Yet, it was in this home, fraught with trials, that Jesus grew in wisdom, age and grace in preparation for His saving work. God intends to prepare us for life's many challenges and make us strong in His grace through the ups and down of family life.
The Gospel chosen to today depicts St. Joseph, Jesus' foster father, as a man who was obedient to God. He models how the father of every home exercises his role as head of the house by seeking first and foremost the will of God for himself and his family. Joseph heard God say to him through the angel of the Lord, "Rise, take the child and his mother, flee to Egypt, and stay there until I tell you." I am sure that this command was confusing and burdensome. But, he went. In order to lead, protect and love his wife and children well, it is critical for a husband to be close to God, to be prayerful and to have an obedient spirit so that he can hear God speak and follow His plan for the family.
Family life runs smoothly and richly when children honor their parents. This is one of the greatest challenges to family life. As children grow up, the desire to strike out on their own in nearly every area of their lives builds with time. Yet, the grace to love and honor their parents even when they disagree with them helps them to become wise, strong, disciplined and a blessing in the home. Ben Sirach, the author of one of the great wisdom books in the Old Testament, teaches: "God sets a father in honor over his children: a mother's authority he confirms over her sons. Whoever honors his father atones for sins. ... He stores up riches who reveres his mother." The visible commitment of parent to draw close to God and follow His lead makes it easier for children to obey and honor their parents. It has the possibility of taking the edge off of the tension that naturally builds when a child knows that his parents are turning to God and truly seeking what is best for the family.
St. Paul adds to the conversation about family life this day with his well-known exhortation to live a virtuous life. St. Paul knew that we are all weak and broken, in need of God's grace. He knew that we are prone to get worn down by life at certain moments and fail to treat one another in the home with the proper care that we should. So, the Apostle to the Gentiles invites us to turn to Christ for the strength that He provides and to practice the virtues that foster unity in the home: "Put on, as God's chosen ones, holy and beloved, hearts full of compassion, kindness, humility, gentleness, and patience, bearing with one another and forgiving one another"
The home is often the hardest place to practice these virtues. That is why we need to be rooted in Christ. "Let the peace of Christ control your hearts. ...Let the word of Christ dwell in you richly."
May our celebration of the Holy Family call to mind how highly God the Father regards family life. May we rededicate ourselves to building a strong relationship with Christ so that we can be a member of our own family that builds unity through our deep care and virtuous deeds.
Please consider a tax deductible gift to support this web site.