Matthew 3:1-12
Do Not Presume by Rev. Paul Scalia
Reprinted by permission of "The Arlington Catholic Herald"
Home Page
To Sunday Gospel Reflections Index
Matthew wrote to show that Christ was the
Messiah and fulfilled the Jewish prophecies.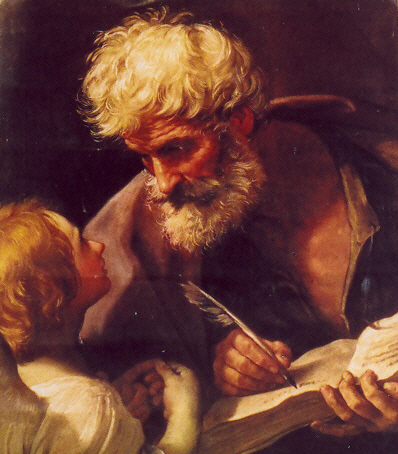 John the Baptist appeared, preaching in the desert of Judea and saying, "Repent, for the kingdom of heaven is at hand!" It was of him that the prophet Isaiah had spoken when he said: A voice of one crying out in the desert, Prepare the way of the Lord, make straight his paths.
John wore clothing made of camel's hair and had a leather belt around his waist. His food was locusts and wild honey. At that time Jerusalem, all Judea, and the whole region around the Jordan were going out to him and were being baptized by him in the Jordan River as they acknowledged their sins.
When he saw many of the Pharisees and Sadducees coming to his baptism, he said to them, "You brood of vipers! Who warned you to flee from the coming wrath? Produce good fruit as evidence of your repentance. And do not presume to say to yourselves, 'We have Abraham as our father. For I tell you, God can raise up children to Abraham from these stones. Even now the ax lies at the root of the trees. Therefore every tree that does not bear good fruit will be cut down and thrown into the fire. I am baptizing you with water, for repentance, but the one who is coming after me is mightier than I. I am not worthy to carry his sandals. He will baptize you with the Holy Spirit and fire. His winnowing fan is in his hand. He will clear his threshing floor and gather his wheat into his barn, but the chaff he will burn with unquenchable fire."
Presumption is an ugly thing. The man who claims a dignity that he does not in fact possess looks ridiculous. The man who imagines himself to be more intelligent than he actually is comes across as stupid. Likewise the man who supposes a friendship or an intimacy that does not exist ends up being insulting and rude. In every instance the presumptuous man comes across as pompous. He is indeed arrogant, for he arrogates to himself what does not belong to him.
Now, if presumption is ugly and unbecoming in the natural order, it is deadly in the supernatural. So John the Baptist warns the Israelites, "Do not presume to say to yourselves, 'We have Abraham as our father.'" (Mat 3:9) For the Israelites, presumption took the form of thinking that simply being descendants of Abraham assured them of salvation. No need, according to this thinking, for them to change their lives or repent. No need to invest in the relationship with God. They therefore risked losing salvation by presuming that relationship and not reforming their lives. By his blunt words, John seeks to shatter their presumption and provoke a genuine repentance and conversion of life.
Obviously, the sin of presumption proceeds from pride. It comes from a skewed view of our own status and of God's obligations to us. Now, God does have obligations to us. But those arise from the covenant, the relationship He established with us. Presumption leads us to expect God to be faithful to that relationship even as we neglect it. It anticipates gifts and graces from God without corresponding duties or devotion on our part. In its extreme form it prompts us to expect God's mercy without repentance. It is the "entitlement mentality" applied to the relationship with God. To expect everything of Him and invest nothing of ourselves.
Worst of all, presumption shuts down any real relationship with God. It uses Him by seeking not a genuine relationship, but just the benefits and blessings that only God can give. And we can understand this again by way of the natural order. We would not really count someone as a friend who always expected something from us but never invested in the friendship. So also the Lord reasonably rejects those who seek to use Him for His gifts but not love Him for His friendship.
Mother Church places this reading before us in Advent to prepare us for the coming of Christ. There is perhaps no better time of year to be shocked out of our presumptuous entitlement mentality. Many Catholics – and certainly our culture in general – presume the gift and grace of Christmas. They lazily and carelessly bounce along during Advent, giving no attention to the need for repentance and preparation to receive a gift. And yet they expect to receive that gift nonetheless.
We cannot expect to receive the deep, genuine joy of Christmas without preparation. On Christmas day the angels announce God's peace not to all but only to "men of good will." (Lk 2:14) That is, to those properly disposed and anxious to have peace with God – to those who have not presumed on that grace, but have prepared by humble repentance.