Matthew 4:12-23
Oh, The Places You'll Go by Rev. Jerome A. Magat
Reprinted be permission of "The Arlington Catholic Herald"
Home Page
To Sunday Gospel Reflections Index
Matthew wrote to show that Christ was the
Messiah and fulfilled the Jewish prophecies.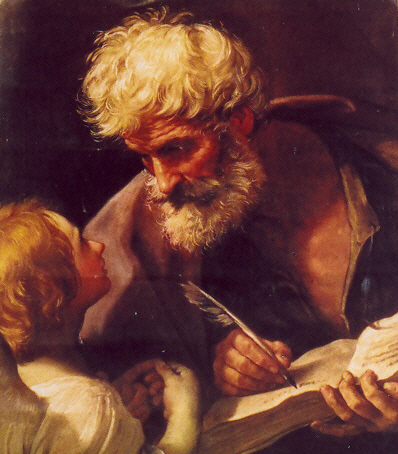 When Jesus heard that John had been arrested, he withdrew to Galilee. He left Nazareth and went to live in Capernaum by the sea, in the region of Zebulun and Naphtali, that what had been said through Isaiah the prophet might be fulfilled: Land of Zebulun and land of Naphtali, the way to the sea, beyond the Jordan, Galilee of the Gentiles, the people who sit in darkness have seen a great light, on those dwelling in a land overshadowed by death light has arisen. From that time on, Jesus began to preach and say, "Repent, for the kingdom of heaven is at hand."
As he was walking by the Sea of Galilee, he saw two brothers, Simon who is called Peter, and his brother Andrew, casting a net into the sea; they were fishermen. He said to them, "Come after me, and I will make you fishers of men." At once they left their nets and followed him. He walked along from there and saw two other brothers, James, the son of Zebedee, and his brother John. They were in a boat, with their father Zebedee, mending their nets. He called them, and immediately they left their boat and their father and followed him. He went around all of Galilee, teaching in their synagogues, proclaiming the gospel of the kingdom, and curing every disease and illness among the people.
This week's Gospel passage attests to Our Lord's decision to relocate His base of operation from Nazareth to Capernaum, a small town on the western coast of the Sea of Galilee, in northern Israel. Pilgrims to the Holy Land are sure not to miss a visit to this biblically significant town, as it became Our Lord's home after His rejection in the synagogue in Nazareth, (cf. Lk 4:29) Others have asserted that Jesus left Nazareth because Herod knew that Jesus operated out of that town and it was safer for Him to move further east and north away from Herod's grasp to Capernaum, since John the Baptist had just been arrested.
In any case, a careful examination of the Gospels shows that Capernaum was of immense significance in Jesus' public ministry. It is in Capernaum where Jesus called five of the apostles – Peter, Andrew, James, John and Matthew. It is also where the dramatic cure of both Peter's mother-in-law and the paralytic let down through the roof occurred. The apostles were sailing to Capernaum when Jesus came to them in the middle of the night walking on the water. Jesus gave the "bread of life discourse" found in John 6 in the synagogue in Capernaum. It was also the site of the exorcism and the healing of the centurion's servant. In addition, many of Jesus' most famous preaching discourses occurred near and around Capernaum. For example, the Mount of Beatitudes is just a short distance from Capernaum and is the site of much of Jesus' preaching on the moral life as found in Matthew 5. A pilgrimage to the Holy Land almost always impresses first-time visitors as they discover how proximate to each other are the locations described in the Gospels.
Despite His decision to move to Capernaum, Jesus was very critical of the Jews there. Keep in mind that part of Jesus' decision to leave Nazareth for Capernaum was His disgust with the lack of faith He found in Nazareth. And yet, Our Lord found a lack of faith in Capernaum as well. In dramatic fashion, Jesus would later say, "And you Capernaum, will you be exalted to heaven? You shall be brought down to Hades. For if the mighty works done in you had been done in Sodom, it would have remained until this day. But I tell you that it shall be more tolerable on the day of judgment for the land of Sodom than for you." (Mt 11:23-23)
Regardless of where Jesus preached, His message was the same: "Repent and believe in the Gospel." The message was not welcomed with open arms by all. In a way, the fact that Jesus decried the lack of faith in both Nazareth and Capernaum reminds us that the human condition is essentially the same everywhere. While Jesus found more faith in Capernaum, as evidenced by the number of miracles He performed there, He was not welcomed there entirely either. Jesus' message of repentance and faith was not an attractive invitation for those wedded to the ways of the world. Even in a town like Capernaum, where Jesus found great faith, there were always those who remained indifferent or hostile to His message. That did not discourage Jesus from doing His Father's will. His example should encourage us as well.
Please consider a tax deductible gift to support this web site.
Top
Home Page
To Sunday Gospel Reflections Index